2018 Symposium
Sponsors
Thanks to the generous support of our 2018 sponsors for helping to advance the goals of #inclusivescicomm
Lead Sponsor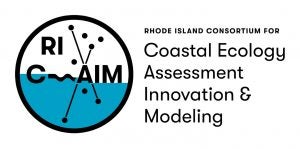 Funded by a $19 million grant from the National Science Foundation (#OIA-1655221), RI C AIM is a collaboration of engineers, scientists, and students from eight higher education institutions across the state developing a new research infrastructure to assess, predict and respond to the effects of climate variability on coastal ecosystems. Working together with businesses and area communities, RI C-AIM seeks to position Rhode Island as a 'center of excellence' for researchers on Narragansett Bay and beyond. NSF Disclaimer: Any opinions, findings, and conclusions or recommendations expressed in this material are those of the author(s) and do not necessarily reflect the views of the National Science Foundation.
Major Sponsors
Through its exceptional education, research, and outreach, the URI College of the Environment and Life Sciences works to improve the quality of life for all Rhode Island residents and the global community. We serve as a catalyst for stellar interdisciplinary collaboration through the strength of ten academic departments. We lead in the areas of environmental and life sciences, environmental economics and management, policy, and design, and we dedicate ourselves to helping community members maximize their opportunities for success. Driven by a responsibility to provide access to higher education for our students and the public we uphold our Land Grant and Sea Grant heritage while growing and innovating for the 21st century.

The Kavli Foundation is dedicated to advancing science for the benefit of humanity, promoting public understanding of scientific research, and supporting scientists and their work.
Contributing Sponsors
The Govenar Family Fund of Communities Foundation of Texas
University of Oregon School of Journalism and Communication
URI Graduate School of Oceanography
Assistant Professor Amelia Moore, URI
URI College of Engineering Minority Student Recruitment and Retention Office
URI Harrington School of Communication and Media
Northeast Louis Stokes Alliance for Minority Participation
URI Graduate School